If you've decided to take the plunge in eCommerce Dropshipping, we strongly recommend you give Shopify a go if it's your first time. Not only is Shopify dropshipping a breeze, but its platform also has a whole host of features that make starting your business as easy as possible.
In this guide, we'll walk through the basics of eCommerce dropshipping with Shopify. We'll be covering:
What dropshipping is
The benefits of choosing Shopify dropshipping as your main platform
5 Steps to setting up a Shopify dropshipping eCommerce business
PS: if you're a small business owner about to get your eCommerce store started, take a look at the article we've written about eCommerce for small businesses.
Now, let's get started.
What is Dropshipping?
Dropshipping is a new method of product shipping and distribution.
Once a customer places an order with your business, you outsource the shipment to a retailer instead of sending the product directly to them. This completely cuts out the shipment portion of your business, with a third-party retailer taking care of this process.
You'll never have to stock products, and a third-party retailer will take care of shipments.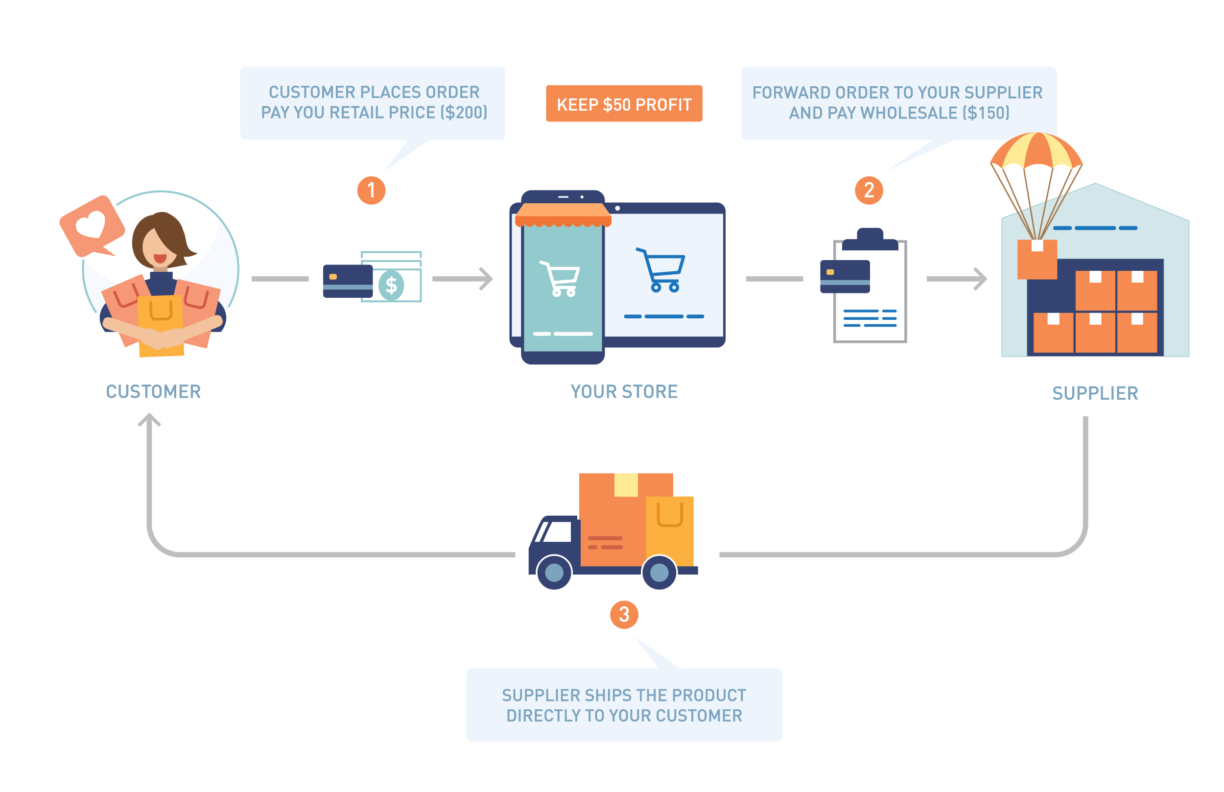 Why use Shopify for eCommerce Dropshipping?
While there are several platforms you could use to dropship, Shopify has consistently ranked well when it comes to dropshipping. In 2020, Shopify processed over $5.1 billion in sales, demonstrating their extreme reach.
Alongside this, the Shopify app offers over 3,200 apps that you can download to your store. These will help with small everyday parts of running your business.
Here's just a few of the benefits of Shopify dropshipping:
Shopify is a dropshipping friendly service
Shopify apps
Ease of use
And they're just the beginning! Let's take a further look at these benefits.
Dropshipping Friendly Service
Shopify has partnered with a large amount of primary dropshipping retailers. Starting a Shopify dropshipping eCommerce business from services like DSers and Oberlo to print-on-demand companies has never been easier.
You'll be able to upload, transfer, and customize products within your Shopify store with ease. Shopify's openness to dropshipping makes it a great place to start a new business.
Shopify Apps
There are a whole host of Shopify dropshipping apps that you can download onto your store.
These make the everyday running of your business much easier. From keeping your reports in one place to customizing how users interact with your store, there are a whole host of little ways you can make your business run smoothly.
You'll be able to manage and interact with your supply chain through these apps, making sure you always have products in stock. Take a look at this list of the best dropshipping apps for Shopify if you want even more information.
Ease of Use
Without a doubt, Shopify has one of the easiest interfaces to learn for a new dropshipping eCommerce business. Without having to learn extensive website coding, you'll be able to customize your eCommerce store exactly how you like it.
What's more, signing up only takes a few minutes, making the process a breeze. With Shopify, you can get started with a dropshipping business by the end of the day!
How Do I Set Up a Shopify Dropshipping Business?
Now that you know about the benefits of this incredible platform, it's time to walk through the steps you'll need to follow to get your Shopify dropshipping business up and running.
By following these five steps, you'll be well on your way to a thriving eCommerce business.
Sign up for an account
Install the most useful applications
Pick your supplier
Set up payments
Track your customer data
1. Sign up for a Shopify account
Creating a Shopify account and store will only take you a couple of minutes. You'll be asked for some details, both about yourself and the company, and then you'll be able to start your 14-day free trial.
Depending on the scope and size of your business, the amount you'll need to pay for Spotify will vary. Take a look at their prices page if you're looking for more information on this front.
2. Install the best applications to your Shopify Dropshipping business
The heart and soul of Shopify is the huge range of applications available. There is an app for everything you need; from design to reports, you'll find it all. There are numerous applications that you could download for dropshipping, such as:
Oberlo – Compatible with AliExpress and allows you to easily import products
Modalyst – Great for finding a range of products with consistent shipping costs
Spocket – Useful if working within Europe, Canada, and the USA
These will give you a great base, allowing you to then move into more specialized applications as you continue.
3. Pick your supplier
The supplier you use will significantly change how you run your store. Are you going to be dropshipping from Amazon? What about AliExpress? Maybe even a Print-On-Demand company? What is going to be your dropshipping profit margin?
No matter what route you go down, make sure to source products that are from reputable sellers. Once you've arranged your website, changing your supply chain becomes a weighty task.
It's better to decide what products and services you'll be selling first. 
4. Set up payments for your Shopify dropshipping business
What is a business without payments? Without this step completed, you won't be able to generate any income nor fulfill any sales.
Follow these steps to quickly set up payments for your Shopify dropshipping eCommerce store:
Go onto your Shopify Admin panel
Click on the 'Payments' tab
Set up a credit card payment provider by entering your required banking details
Fill out any business details like TIN (Taxpayer Identification Number) or your business number
Once you've done that, you'll be ready to receive payments!
5. Track your Data with a Third-Party Software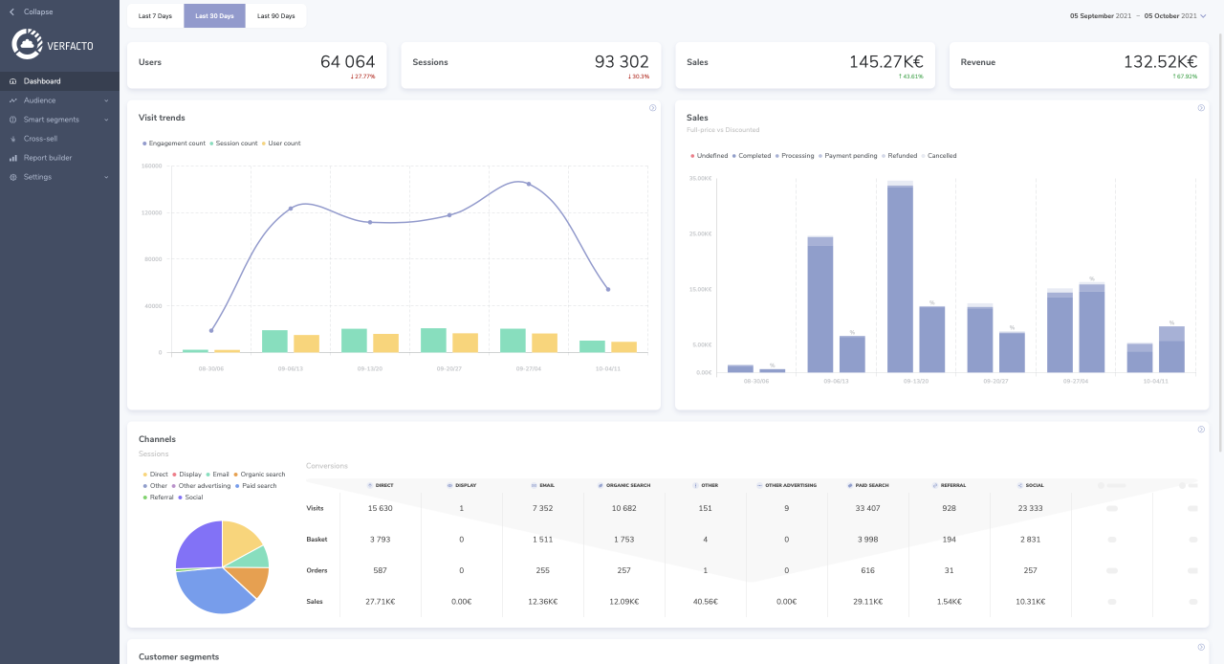 As good as Shopify is for a dropshipping business, one of its major downsides is the lack of data it includes. Although Shopify analytics gives some information, it seriously lacks actionable insights that you can take from your data.
By installing a third-party data management platform like Verfacto, you'll be able to more easily track your data.
Having customer user data in one place allows you to segment your users. This segmentation process will give you an insight into how certain users act on your site. With a better knowledge of who is shopping or your site and why, you can better accommodate to them.
With data management comes actionable steps you can take to improve upon your business. Platforms like Verfacto allow you to completely transform how you do business, relying on and acting upon data to boost your revenue.
With data-driven marketing, you'll be able to follow recommendations that boost your conversion, increase your customer lifetime value, and boost your average order value.
If you're looking to create a Shopify dropshipping business that lasts, be sure you don't overlook data management. Although often forgotten, it is one of the most vital steps towards success.
Some of the largest businesses in the world are already using data-driven marketing to boost their revenue. Here are 5 examples of where data-driven marketing was used to supercharge a business.
With Verfacto, you can join the ranks of these ingenious, data-driven businesses.
Final Thoughts on Shopify Dropshipping
Shopify is, without a doubt, one of the best ways to get started in the world of dropshipping. By following this guide, you'll be able to set up your business in no time at all.
If you're looking to secure your business' longevity, why not try the one-month free trial of Verfacto. Its comprehensive data platform will allow you to gain insight into your user base, increasing how effectively you can market, accommodate, and convert your audience into paying customers.
Best of luck on your Shopify eCommerce dropshipping journey!