ECommerce Dropshipping has taken the world by storm over the past ten years. From a relatively unheard-of practice to a central practice in millions of businesses, dropshipping is everywhere. In 2017 alone, dropshipping accounted for around 23% of online sales. That number has only grown over the past few years.
But what exactly is eCommerce dropshipping, and how can you use it to start your business? In this article, we'll cover the basics of eCommerce dropshipping, giving you vital tips that can lead you towards success.
Let's get into it!
What is eCommerce Dropshipping?
Dropshipping is a method of fulfilling orders which means you never have to stock products yourself. Instead of receiving an order and shipping a product to your customer, you outsource the product fulfillment to a supplier.
This means that when a customer buys from your store, you'll then send their order to a supplier, and the supplier will send the product to your customer. eCommerce dropshipping has been growing around 17% per year, with good reason. It's a fantastic way of starting a business without as much risk.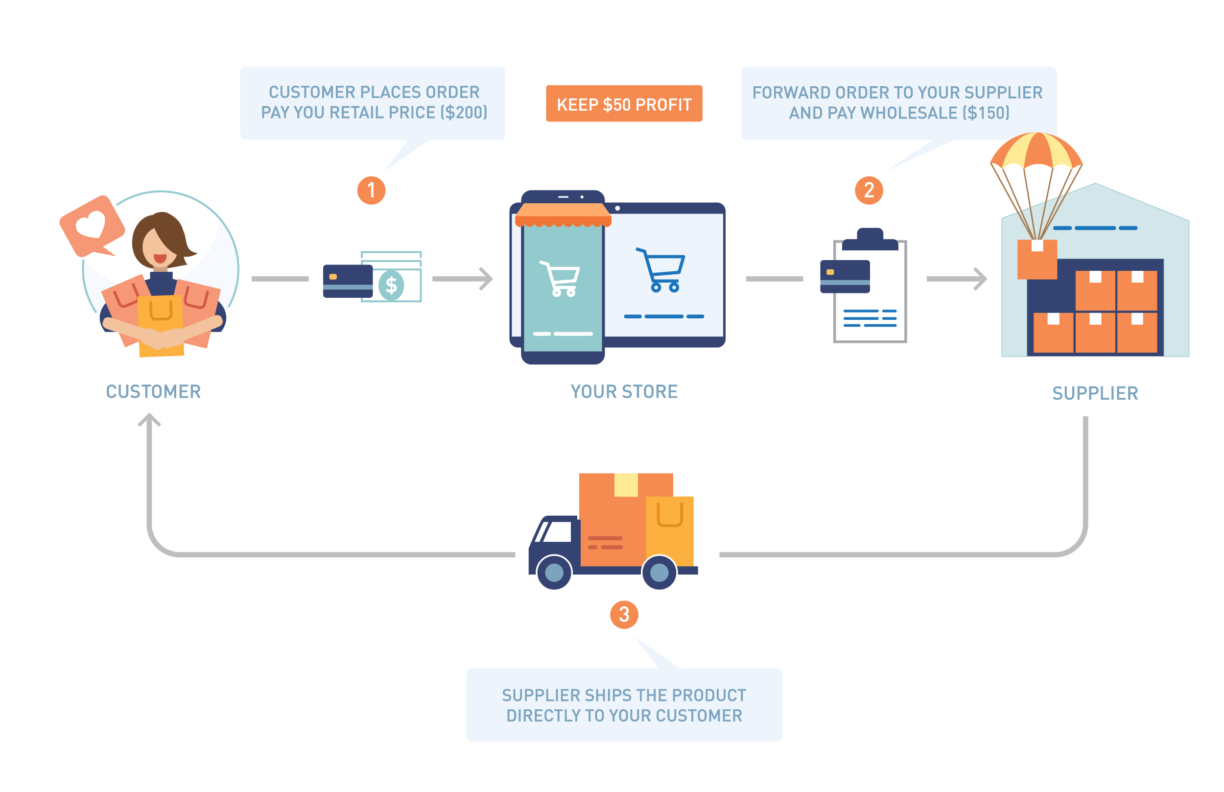 What are the Benefits of eCommerce Dropshipping?
1. Less Risky
From a business perspective, dropshipping removes a lot of the risk from starting a business. Instead of committing to an idea or a particular product, you'll be able to start a business with less initial capital. That's due to the fact that you won't have to buy bulk products.
ECommerce Dropshipping means that you never actually stock or handle the products yourself. If your business isn't getting sales, you won't be sat with products around your home waiting for that next order. Everything is managed through your distributor, allowing you to send through orders to your supplier when they come through.
There is a very low upfront cost, keeping this a low-risk form of starting a business.
2. Easy to Begin
Taking physical products out of the equation makes dropshipping a very easy business to set up. Instead of taking inventory of the products you have, everything is in the hands of the supplier. That means to begin, all you need to do is set up your website and source a supplier.
This shouldn't take more than a couple of hours of initial work. Just make sure your website stands out from the rest. Shopify dropshipping has a lot of resources you can use (we've created a complete guide on how to setup your dropshipping using Shopify to help you out). Equally, you could opt for using a site like Wix or Squarespace to build your eCommerce store. 
3. Work from Anywhere
Dropshipping is completely an online business. Not only does that give you the freedom to set your own working hours, but you'll also be able to work from anywhere. Many drop shippers make the most of this by becoming part of the digital nomad community, traveling the world while working on their business.
With dropshipping, all you need is a laptop and a Wi-Fi connection!
4. Choose and Change Products Quickly
Considering that you don't have to commit to buying a large quantity of any one product, you can easily change what you're selling. If you realize that the niche of eCommerce dropshipping products you've selected are currently not selling, you don't have to panic.
All you need to do is create a listing on your website for a different product. With tools like Oberlo, you can even directly pull photos and descriptions from your supplier's site. It really couldn't be easier to change your sales strategies!
5. A/B Testing is a Breeze
Similar to the above point, due to the ease of changing things around on your eCommerce dropshipping store, you can run A/B testing with ease. You can launch two product niches on your website, allowing you to then see which registers better with your target market.
It doesn't take long to create new listings on a dropshipping eCommerce store, meaning this whole A/B testing process is as smooth as possible. Once you've received the data from your results, you can then decide which niche or products to go forward with.
6. eCommerce Dropshipping is Scalable
Considering that you can outsource your products to your suppliers, a boost in orders doesn't mean a boost in work for you. Let's say one day you suddenly had 5x the orders of a previous week. With a home-grown business, that would mean that you'd have to spend 5x the time packing and getting products ready.
However, because you're working with a supplier, the hardest part of the job is passed off to them. Based on what they charge for the products, both of you will be boosting your revenue!
Where Do I Dropship from?
There is a huge range of suppliers that you could choose from when deciding where to dropship from. One easy way to find a supplier is to use a larger marketplace like AliExpress or Alibaba. Similarly, if you have a particular product in mind, you could use google to find a retailer.
Search using Google Targeting, using quotation marks to get results that directly include your niche. Let's say you wanted to start a men's bathing suit store. Simply Google "Men's Bathing Suit" + "Supplier." These terms, when put in quotation marks, will ensure you get results that are exactly what you're looking for.
How do I maximize the chances that my eCommerce Dropshipping Store is Successful?
One of the best ways you can maximize your chances of success is to incorporate the power of data into your business. By turning your data into actionable insights, you'll be able to act on the wealth of customer data that you come across.
Data-driven marketing is an eCommerce store's superpower, letting you use statistics to improve your business. By understanding and using data, you'll be able to boost your sales, run more efficient A/B tests, increase LTV and AOV of your customers.
If you're looking for an easy way to get the most out of your eCommerce dropshipping store's data, then try out Verfacto. This data-driven marketing tool will provide you with actionable insights on your business, pointing you towards success.
The advanced user segmentation and behavioral targeting functions will ensure you maximize the possibility of carrying through every customer that comes onto your site to the checkout screen and increasing your dropshipping profit margins.
Final Thoughts
Dropshipping is a fantastic way of doing business. With less risk, more flexibility, and easy scaling opportunities, there's never been a better time to get into dropshipping.
If you're looking to give yourself the best possible chance of success, make the most of Verfacto's one-month free trial. You'll gain actionable insights into your customer data that can boost your revenue and lead your eCommerce dropshipping business to success!