Loyal customers are not easy to find, but they are an incredible asset to any brand. Customer retention has become a mission for many companies, and for a good reason. This is one of the most important ecommerce metrics out there.
Even in this time of technological advancement, word-of-mouth marketing still brings more revenue than anything. While marketers dig deep to find new measures to track customer loyalty, repeat customers bring in the most value by telling their friends how delighted they are with their latest purchase!
In this article, we will see what customer loyalty is, why you should spend the effort to keep your existing customers happy, and several ways to measure loyalty.
What Is Customer Loyalty?
Customer loyalty is the positive relationship between a business and a customer. It's what prompts customers to purchase repeatedly from the same brand, even when less expensive or more up-to-date options are available.
In times when marketing costs have become too high, letting go of customers might be considered with one word: a disaster. Retailers have become more aware of their returning customers with business intelligence tools.
Master your customers' journey.
Identify loyal customers and increase their retention with the help of Verfacto analytics.
Why Is It Important?

Repeat customers are the recipe for long-term success. The average customer does not want to look around for options. Instead, they want to find a one-stop solution for all their problems. According to statistics, 82% of companies agree that client retention is way cheaper than client acquisition.
Let's see some reasons why it makes sense to focus on customer retention rather than customer acquisition marketing:
1. Repeat Customers Will Come Back Again
Not only do repeat purchases build brand loyalty, but they also provide a sense of reliability that makes your business more trustworthy. Each successful transaction leads customers to believe that your business will deliver what it promises.
In this regard, it doesn't surprise anyone that someone who has five orders with you will be more than confident to purchase goods once again.
Having loyal customers also improves your customer activity cycle, which could increase profits among many other benefits.
2. Increased Order Value
Retailers may use repeat customers to their advantage. These consumers have a long-standing relationship with the brand and are likely to spend more time and money with that company. One of the best ways to retain a customer is to understand their needs, desires, and concerns.
This transparency in communication creates loyalty, which leads to repeat purchases and more sales.
3. Customer Acquisition Cost Is Too High
While everyone wants to increase their number of customers, it turns out to be tough to achieve this mission. When you compare how many customers you can convert to how much you should spend to bring them on board, it can turn out you're losing. A recent study has concluded that customer acquisition cost (or CAC) has increased by 60% over the last five years.
However, if you focus on providing a positive customer experience, you will notice how fast your profit margins grow. A happy customer is a repeat customer.
If you still need some help with this topic, we've listed a few common problems in businesses' customer acquisition strategy and how to solve them.
4. Improved Brand Image
The brand image relies on customer satisfaction. By retaining clients longer, companies make sure they keep their financial health, as well as their reputation. It may take some work, but there are ways that brands can improve their customer retention rates (we've discussed this topic more in depth here).
Nothing helps your cause more than happy customers sharing their delight.
5. Better Community
Building a community is one of the greatest assets a company can have. Companies can earn loyal fans by creating a place for consumers to interact with the brand and allowing members to post materials that encourage engagement and sharing.
It can lead to improved sales, but it also builds communities that continually refer their friends and family to the products they love.
How Can We Measure It?
Measuring loyalty is an exciting endeavor for those who haven't done it before. After all, loyalty is an emotion. It's a feeling of belonging.
However, we won't track our progress without customer loyalty metrics. Marketers would get lost, and the whole marketing strategy will be vain.
To tackle these problems, we will introduce you to seven metrics that will help you immensely in your attempt to win and keep more customers.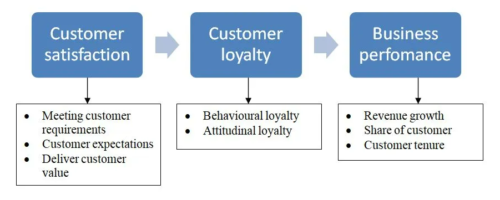 7 Metrics That Help in Quantifying Customer Loyalty
1. Net Promoter Score
NPS, or Net Promoter Score, is a customer loyalty score that measures how willing customers are to recommend Product X or Service Y to somebody they know.
The net promoter score is not calculated in percentage, and it's an absolute number between -100 and -100.
Let's say you have forty clients that would recommend your product – promoters, twenty who are passives, and ten detractors. In this case, your NPS will be 10.
Many arguments arise whether or not this is an excellent way to measure results. It is not scientifically proven, making calculating results based only on this metric irrelevant.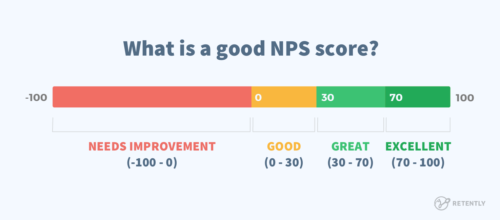 2. Customer Engagement Score
Customer engagement is one of the most crucial metrics to measure. It shows how deeply your product has been embedded into customers' daily lives and how it can improve their experience (see more about how to measure customer engagement here).
Conversion rate
The first and most important score is the conversion rate. It is calculated when you divide the number of conversions by the number of unique visitors and then multiply by 100.
An example: If your page has been visited 1000 times and you've sold 25 products, you have a conversion rate of 2.5%.
Pages per session
This metric shows how many pages visitors have clicked through during their single session, and it is measured with Google Analytics.
Average session duration
The time spent on the website is called an average session duration, and it is calculated in minutes. The more, the better. While many consider conversions the bread and butter of success, session duration is one of the "hidden" loyalty metrics that often get neglected.
3. Repurchase Rate
One metric that calculates customer value differently is the repeat purchase rate, and RPR measures how long the client has placed another one after the first order in most simple terms. The metric aims to find when (and if) an existing customer will reorder.
Your repeat business ratio predicts your future retention rates. When you know how many customers are coming back to buy more of your product, you begin to understand how profitable your business is. Customers who've purchased products or subscribed to your services only once are not valuable. But if you can retain customers over the years, you could keep your finances in good health.
RPR is calculated: numbers of customers over a specific time/total amount of customers = RPR.
4. Upsell Ratio
Upselling is one of the best ways to make customers spend more on your products. By offering complementary products and services along with the base product, companies can increase the average purchase value of each customer and increase their net revenue, which also increases Customer Lifetime Value.
A successful upsell strategy can help your brand raise the prices and maintain profits without worrying about negative impacts on the bottom line. If a business provides its customers with high-quality products and excellent customer service, it can adjust its prices to fit customers' demands in today's competitive market.
It's not hard to measure it. You should divide the number of customers who purchased additional goods from you by the number of customers acquired.
By analyzing your product upsell rate, you can better coordinate your customer success and account management teams' efforts. Through this analysis, you can identify cohorts of customers that are not purchasing additional products (see more about cohort analysis here). Your customer success team can use this information to be more proactive with those at risk of churning.
5. Purchase Frequency
People who make multiple purchases are more accessible to retain than those who do not. Loyal customers who shop more often are also more likely to promote your brand and refer other potential clients – be it their friends or family members. While it is not always easy to predict customer behavior, a loyal customer will always be more prone to buy from you than someone who has just come across your brand.
This is where purchase frequency shines like a brand loyalty indicator. The frequency of orders made by individuals lets you see whether you are providing the right items for your buyers. This information can help you determine what you need to do to keep clients happy and prevent them from thinking that your current inventory (or service) is inadequate.
It's pretty easy to measure it, and you have to divide the number of orders by the number of unique customers.
6. Customer Loyalty Index
Customer loyalty index (or CLI) is one of the most critical tools to predict future retention rates. CLI tracks loyalty over time, and it combines three other factors – NPS, upselling, and repurchasing.
It is a survey that asks the following questions:
How likely are you to purchase goods from us in the future?
How likely are you to try some other products or services of ours someday?
How likely are you to recommend our product or services to your friends and family?
It is a scale between 1-10 (10 is considered very likely, 1 – not likely). The CLI is measured when we average the values of all three questions.
Customer loyalty requires a delicate balance between surveys and numbers. Surveys provide more detailed information about the customer base, but marketers and business owners must monitor their frequency. If you bombard customers with questions, they may lose interest or feel overwhelmed.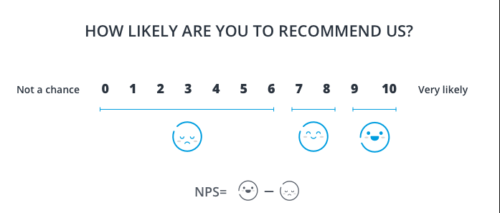 7. Customer Lifetime Value
Customer Lifetime Value analyzes the entire financial relationship between a brand and its customer. This calculation aims to determine how much profit each customer can bring the business. Calculating CLV helps companies understand how much money they can spend to acquire each customer.
While some other loyalty metrics focus on empirical value (NPS and CLI), this one pays more attention to financial results. More than 75% of the companies use CLV as a crucial concept when establishing their business strategy.
The way it is calculated is the following:
CLV = Average Order Value * Total Number of Transactions * Average Customer Lifespan * Profit Margin
PS: If you'd like to know more about how to predict customer lifetime value, check out the article we've written about it.
How to Improve the Loyalty of Your Customers to Your Business
Improving customer loyalty doesn't happen overnight, and you need to steadily deliver a consistent experience to earn your clients' loyalty.
We've shown you how to build customer loyalty in this article, but here are a few essential tips to improve your metrics.
1. Create Loyalty Programs
Instead of running regular sales events and discount promotions, you should build a loyalty program for your customers, increasing total revenue.
This way, you build a relationship with the customer and provide them with incentives to order from you more frequently. You avoid low-profit margins by offering exclusive discounts in exchange for repeat customers.
Using loyalty programs will provide a great perceived value to your buyers, and your company won't look like a thrift shop that is offputting for many people.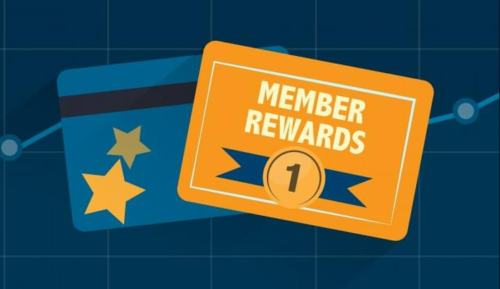 2. Provide Great Customer Service
It doesn't have to surprise you that 93% of the customers will most likely buy again in the future if they are pleased with their recent shopping. Make sure to offer an incredible customer support experience.
As many people shop online, companies should provide different options for contacting customer service agents. Customer satisfaction is imperative to achieve customer loyalty, and repeat purchasers are hard to win.
3. Social Media Engagement
Your most loyal customers might help you reach new heights if you invest time and effort in social media engagement. Customer relationships are essential for your business's success, and having Facebook and LinkedIn pages has become a must.
Many new brands are trying to win new customers with funny TikTok videos and great actionable insights on their Instagram accounts. Invest in customer engagement, and your revenue will increase.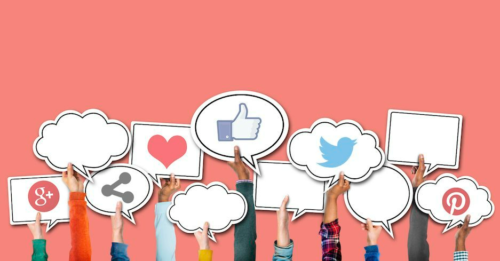 4. Build Brand Image
To stay competitive, any successful business needs to have knowledgeable employees. With a team that can solve customer issues quickly and competently, customers will feel appreciated, valued, and cared for.
Instead of fumbling for answers or sending frustrated customers into the arms of competitors, successful companies enjoy a positive reputation and gain loyal advocates who are likely to make repeat customers.
5. Ask for Feedback
You can significantly reduce your customer churn rate if you incorporate feedback sessions. You can proactively ask for reviews on your products or how well your customer service representatives have done their job.
It can help you gain more future purchases from people who had questions that your team answered promptly. More proactiveness could result in fewer customers lost.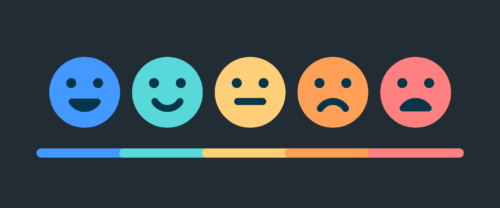 Conclusion
With the advancements in customer analysis technologies, it has become easier to predict customer behavior. Companies can use more personalized strategies to influence critical customers, meet their needs, and create customer satisfaction and brand loyalty. Using surveys and analyzing data can increase your retention rate and drastically improve customer experience.
And if you'd like to know how to improve customer loyalty by using cohort analysis for retention, click here.
Master your customers' journey.
Identify loyal customers and increase their retention with the help of Verfacto analytics.
It's a very tricky question that confuses many. While you can increase your retention rate with a good loyalty program, it does not automatically mean you will improve your loyalty score. It would help focus on consumer surveys, excellent customer care, and good feedback reception.
To gauge customer loyalty, companies use three questions:
Whether a customer is likely to recommend the brand (promoters) or unlikely to do so (detractors).

Whether they would recommend the products/services or not.

How likely they are to buy from the brand again.
The three R's in customer loyalty are Retention, Referrals, and Related Sales. Every one of them is just as important as the other two.