Your customer's experience is defined by each touchpoint or each time they interact with your brand. From the moment they become aware and curious about your brand to their first visit to your website, making their first purchase to their after-sales experience, each aspect affects how they perceive your company and influences the likelihood that they'll do business with you again. 
Customers today have countless online retailers to choose from. Since most online sellers don't have a physical store, they need to offer the best digital customer experience from the very beginning. More than ever, it's important that each customer's journey be a pleasant and easy one. As an online business owner, the responsibility of ensuring maximum satisfaction falls on you. 
This definitive guide covers everything you need to know about the customer journey. It details how potential customers become repeat customers and eventually loyal customers so you can build a successful business.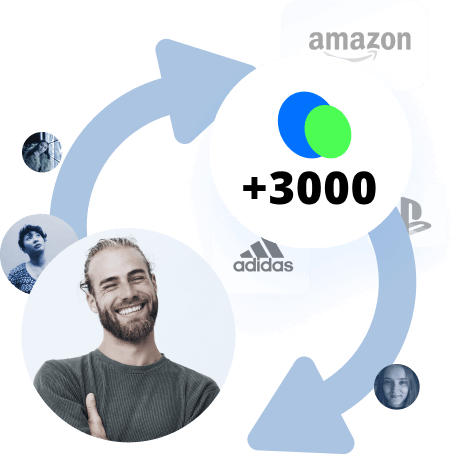 Grow loyal customers faster!​
Want to fast track your customers to the loyalty phase of their journey? Implement a loyalty program! By offering rewards to your most dedicated customers, you can create a sense of exclusivity and incentivize new customers to become loyal too.
What is the Ecommerce Customer Journey?
The ecommerce customer journey refers to all the steps that each customer goes through when interacting with your business and making a purchase.
While the purchase itself is important, the client's overall experience can determine a successful or unsuccessful conversion. Many things go into that experience such as how quickly your online store loads for website visitors, whether or not your site is optimized for different mobile devices, how user-friendly your interface is, how convenient your checkout process is when making a purchase, etc.
It also encompasses advertising, how fast your orders are fulfilled, the quality of your customer care service, and how well you communicate with the prospective customer.
All these contribute to the overall customer journey and can encourage customers to purchase from your online business again if they have a positive experience. 
Ultimately, the customer's overall satisfaction throughout their journey affects customer behavior and brand loyalty.
Let's have a more in-depth look at how your client journey plays a key role in your ability to attract and retain customers.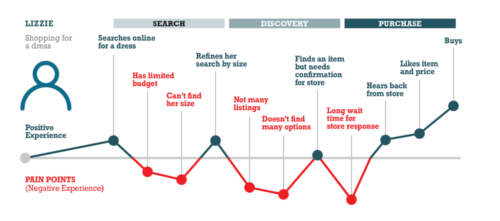 Why Is It Important for Your Business?
Customer retention depends more on the customer's experience than the products you offer regardless of how competitive your pricing is. 
In response, online business owners have started to focus on providing a pleasant customer journey, retaining existing customers, and attracting prospective customers. One way to do this is by maintaining positive reviews on social media.
A survey revealed that 45.9% of 1,920 business professionals considered customer experience (CX) to be their top priority for the upcoming five years for ecommerce businesses.
This is because investing in CX initiatives can potentially double revenue within a period of 36 months. Unsurprisingly, up to 86% of buyers are willing to pay a higher price for better customer experiences, including a 13% to 18% premium for luxury items and indulgence services.
If that doesn't convince you, keep in mind that you're likely to lose business from one out of three engaged customers if they have just one bad experience! 
These statistics illustrate just how crucial it is for online retailers to focus on creating a good customer journey map and keep customers happy.
Most customers will agree that this is the key for online businesses to increase conversions, retain customers, and improve brand loyalty. 
Let's look at the stages of a client's online shopping journey before we understand how customer journey mapping works.
What Are the Stages of the Buyer's Journey?
Every journey has five stages that occur with customer touchpoints. You need to know each stage of that journey, how those stages affect customer experiences and how you can improve the journey at every level and customer touchpoint (we've discussed customer experience and how to measure it here). Let's have a look at stages of the customer journey so you can have better understanding of your clients' experiences on your ecommerce platform: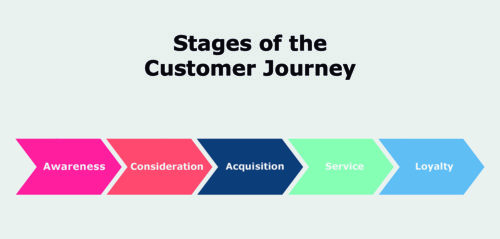 1. Awareness
Awareness is the discovery stage of your ecommerce site. The customer learns who you are and what you have to offer.It is the starting point of your customers' journey where they may discover your product or service on your ecommerce site. It's also when a business tries to offer solutions for a client's pain points. Pain points are the bane of any online stores and can lose you customers if not identified and remedied.
Effective search engine optimization (SEO) and ecommerce marketing strategies come into play during this stage. If you've yet to optimize your online presence, you can use this phase to better understand which marketing and search engine optimization strategies work for you (we've discussed it more in depth in this article about SEO basics for eCommerce).
For example, customers interested in purchasing new shoes may perform a quick Google search. They see your ad, click on it and end up on your landing page.
The touchpoints at this stage include ads, blogs, banners, newsletters, etc.
2. Consideration
As the name suggests, consideration is when a prospective buyer takes into account all the options available in your online store and shows real interest in buying from you. This is when they transition from casual browsing to looking at specific products they might buy.
Very often, the consideration stage is the point where most businesses lose clients, especially if potential buyers are unable to find what they want after a few minutes of browsing. Online retail websites that look fantastic on desktop computers can be painful to navigate on a mobile device. Making your eShop site mobile-friendly is one way to ensure that you don't lose them.
The touchpoints in this stage include the landing page, product/store page, category filters, etc. 
Studying user behavior during the consideration stage can provide valuable insights regarding buyer behavior as well as which tactics work and which strategies are ineffective for conversion.
3. Acquisition
The acquisition or conversion stage is when a potential buyer adds a product to their cart or wishlist and buys something by completing the checkout and payment process.
They then go through the thank you page and are updated about the shipment of their orders.
Acquisition is the crucial stage at which your business is expected to deliver on its promises and fulfill the expectations that brought the buyer to your doorstep in the first place. 
Keeping in mind the example of a pair of shoes, if the customer buys a pair of shoes, but is unsatisfied with the order, he or she may move onto the next stage: the service stage.
The touchpoints during the acquisition stage include the shopping cart, payment service provider, checkout page, thank you page, order confirmation, tracking details, etc.
4. Service
The service stage is one of the latter parts of the client experience. It requires human interaction and a high level of customer care.
During this time, the client might require additional help with their purchase or product. For example, they may wish to return the shoes they ordered. In this instance, the client might choose to call customer service if the return procedure is unclear or complicated.
Your ability to retain your customers partially depends on how smoothly you can aid and facilitate your clients' requests. Satisfying after-sales service will encourage customers to return and make additional purchases later on.
The touchpoints during this stage include your FAQs, terms and conditions, customer service representatives, packaging, return confirmation, etc.
5. Loyalty
The customer loyalty stage is the culmination of all the previous steps of the customer's eCommerce journey.
Most online stores fall short of providing a pleasant experience for clients during the previous stages. The inability to do so prevents them from enjoying a high lifetime value from their clients. It also keeps them from converting previous clients into unofficial brand ambassadors whose brand loyalty can help save on ecommerce marketing expenses (we've discussed how to measure customer loyalty here and how to build it here).
During this stage, a client might receive a follow-up newsletter, rate the product and services received, and use their refund or credit voucher for a subsequent purchase. 
The main touchpoint in this instance is a newsletter or follow-up email along with the product page, landing page, and online form.
Reviewing, analyzing, and making changes to the stages of the customer's eCommerce journey is a big task. An easier approach is to identify the most valuable buyer personas and create a customer journey map one stage at a time.
What is a buyer persona? Also called a customer persona, marketing persona, and audience persona, a buyer persona represents a segment of a business' target audience. By taking into account who their target audiences are, marketers can remain focused on the behavior, demographics, locations as well as wants and needs of their markets. This allows them to create more targeted and relevant customer journeys that their intended audiences are more likely to engage with and respond to.
If a company wants to target diverse groups with different interests and demographics, they can divide their target audiences into different customer personas and create multiple marketing strategies to address the needs and preferences of different groups.
By taking the needs of customer personas into account, businesses can tailor their eCommerce platforms and other touchpoints to match the different profiles that they come up with.
How To Create Customer Journey Maps for Online Stores?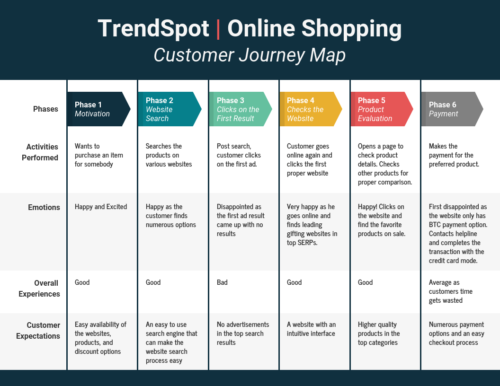 Mapping the customer journey involves listing down the various touchpoints that your business provides.
Such a map helps highlight or predict the sequence in which these touchpoints will be experienced by the client. This can help identify strengths and weaknesses within the business, helping you identify areas for improvements.
It's important to remember that not all customer journey maps are the same. They'll differ based on the customer's experience. The map also doesn't need to cover all the stages especially if the client doesn't progress to the later stages of acquisition, service, and loyalty.
However, it's still an important element because it shows all the possibilities of a customer's experience, regardless of how many stages are involved.
Here comes the million dollar question: where do you begin and what should you consider when mapping these journeys? Let's have a look!
View Your Business From the Customer's Perspective
Since your customer map is based on the client's perspective, you have to view your business from your customers' shoes. The focus should be on understanding their experiences when interacting with your company.
Start by picking a product or service that your company offers and use different terms to search for them on search engines. To come up with a list of searchable terms, you can use tools like Google Trends which will tell you how much volume certain keywords have while suggesting other related terms. 
You'll also need to look into how your prospective customers find you. If you have a website, investigate where your traffic is coming from. Again, there are many tools that can help you do this. One of the more popular (and free) tools is Google Analytics. During this step, you may discover that certain reviews, blogs, and articles led clients to your website. 
This step is important because this is usually the first time that potential customers become aware of your business. Knowing what they're searching for and where they came from already gives you more context on what they're searching for and how you can tailor the first touchpoint to your advantage. 
If you can make your touchpoint more relevant to them, you have a greater chance of nudging them further along the sales funnel. You'll also have more insight into the types of materials you can use to draw more clients to your business.
Once you've traced how they discovered your brand, it's time to take a look at the product pages that they usually look at. Again, try to see your materials with fresh eyes, the way a new client might. An unbiased approach allows you to objectively see what might jump out at potential customers or identify something that might lead them to close their browsers or navigate to another site.
Make notes of what needs improving, what you need to do more of, and other insights so you can turn them into actionable items later.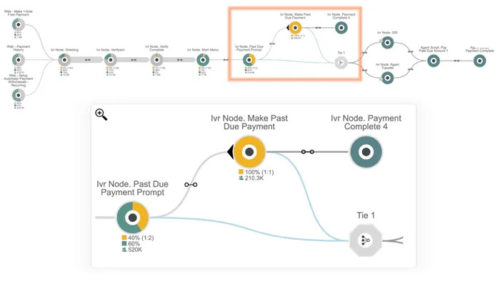 Gain Unbiased Insights From Focus Groups
Create a focus group from your target demographic, and refrain from identifying your company while doing so. The anonymity will afford you more objective responses that can give you the feedback you need to improve the client experience.
Once you've assembled a group of participants, ask them to find and buy a particular service or product that you offer. Observe the different ways they found your item and the outcomes. Record the results and compare them with your own experience.
Why utilize focus groups? This activity is important because it allows you to analyze the experience of your clients and see how similar your own experience was to theirs. It also lets you have a wider overview of different interactions and touchpoints.
If the focus group's experience aligns with yours, you can use the information to your advantage, since it shows that you understand how your clients think and behave. If you have different experiences, it gives you a different perspective, and you can gain important insights from their unique experiences.
What Data You Should Collect and How To Do It
The first two steps we've mentioned so far were focused on data collection and compilation. In this step, you'll see what types of data you can collect, including tools you can use to improve the performance of different touchpoints in creating greater engagement.
The main data you can collect and study includes:
On-site surveys that flesh out in the Awareness stage

Heatmaps that visualize activity during the consideration stage

On-page surveys that improve the consideration and acquisition stages

Post-purchase surveys that provide insights on the service and loyalty stages
This also involves studying Google Analytics data to know your search engine ranking  and other touchpoints such as social media platforms and review sites.
Essentially, you have to analyze all the information you've collected from your client's first search to their final purchase.
Identify Goals and Shortcomings
Once the foundations of your buyer's journey map is laid out, you can prepare to analyze the insights you gained from these touchpoints and engagements. This will help you identify the different needs of your clients and the shortcomings they experience when interacting with your business.
You can use the information you've collected to understand:
What the clients' ultimate goals are and what they wish to achieve

What elements of your business provide customer satisfaction and what aspects leave them dissatisfied or frustrated

What touchpoints are causing issues and how they can be solved or improved

 
Create a Simplified Visualization of Your Data
The data you've collected while mapping your client journey can be complicated and hard to digest. This is why creating a simplified visualization should be your next step. It will provide you with a visual aid that will allow you to easily access and evaluate what you have so far.
The format of your visualization will depend on your business model. You may even have multiple visuals if your company is large and has different teams who are responsible for different areas. 
For example, if you have a dedicated SEO marketing team, you can create an individual journey map that covers search engine and social media touchpoints, pain points, experiences, etc.
You can then use this information to analyze where your business currently stands, what your strengths and weaknesses are, and what you need to improve as far as the client experience goes.
How Do You Analyze the Journey of Your Customers?
Using the data you have so far, you can analyze your buyer's journey based on certain psychological principles that drive sales.
Let's look at the steps you need to do to maximize the information you've gathered and analyze your client journey.
Observe How Customers Interact With Your Site
A flow report will tell you how clients move and navigate through your website. Monitoring and tracking these movements is critical for producing a psychologically informed model and deriving marketing strategies that help drive sales.
Google Analytics allows you to conveniently uncover behavior flow to help you understand how different groups of users behave. You can then identify patterns and trends, such as drop-off points where users exit your site without buying anything.
Analyzing how clients behave will allow you to create a better marketing model and a smoother client journey, thus improving your conversion rate and sales.
For example, you notice that your sales are low despite offering discounts to first-time visitors. Upon further investigation, you find out that consumers lack the motivation to make a purchase. This lets you know that you need to work on having a better call to action to incentivize or motivate clients to make a purchase.
This logic also applies to shortcomings that result in more drop-offs at specific touchpoints.
Study The Best Conversion Path Report
Clients often go through multiple touchpoints, various channels, and platforms before eventually landing on your website.
This makes it critical to have omnichannel or multichannel strategies that optimize their experience as they shift from one platform to another (see how to make the best of your omnichannel analytics here). The importance of this strategy was evident as far back as 2020 when companies investing in omnichannel client experiences increased from 20 to 80%.
Here's why: an individual may come across your Twitter page and be redirected to your Instagram handle. They may then browse through your Instagram profile before visiting your site and buying something.
This is why it's important to know when, why, and how clients use different channels before making a purchase.
You must not only take note of the different channels, but also the order in which they are visited, so you can ensure that the customer's experience is pleasant all throughout and optimize your channels accordingly.
Different demographics might reach your site through different channels and platforms. They may also interact with your website differently. It is thus important to study how they reach you to ensure that the process is smooth and easy for them. By doing so, you can optimize their pathways to ensure the highest possible chances of conversion. 
All the data you've gathered is extremely useful in providing your clients with a pleasant journey. Since a pleasant experience encourages 63% of clients to share their personal data with a company, you'll have access to even more information. 
Thus, you can use data to provide a pleasant experience, which you can then leverage to gain even more data and further improve the customer's experience. The best part? Such transactions put both parties in a win-win situation.
What Are the Best Metrics to Track Progress?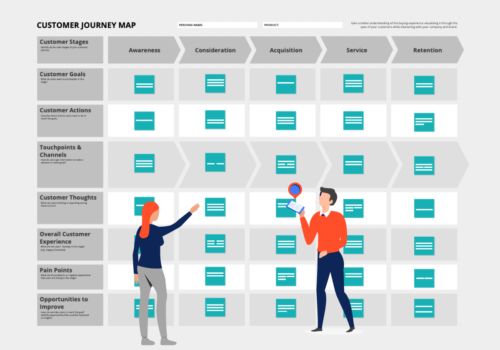 Tracking your ecommerce customer journey is important as it allows you to improve your clients' experiences to help your business grow.
But how do you know that it is indeed working, and you're making progress in improving the customer experience?
Let's look at the most important eCommerce metrics that you should keep track of…
Conversion Rates
The conversion rate refers to the number of visitors your eShop site receives and how many results in successful purchases or conversions.
It's possible that your social media handles might be extremely popular, and you could be driving a lot of traffic to your website from other channels.
However, the transition from awareness to conversion has a fair number of obstacles and doesn't guarantee a sale, as it depends on a variety of factors. Your business is thus considered more successful if you're able to persuade website visitors to place an order, thereby improving your conversion rate.
The formula to calculate the conversion rate is: CR = (Total number of customers / Total Unique Visitors) * 100
Observing improvements in your conversion rate is a great metric to track progress and growth.
Customer Acquisition Cost
This metric measures how much money you invest in marketing and promotions to acquire new clients. If the cost of acquisition is too high, your business may not be as profitable even if you've acquired hundreds of new clients (see other common problems on businesses' customer acquisition strategy here).
Most successful businesses keep their client acquisition costs below 30%, and strategically invest their money towards improving conversion rates rather than customer acquisition. This can be done by incentivizing existing customers into promoting your business along with targeted marketing, instead of simply trying to drive traffic to your website.
The formula for calculating your customer acquisition cost is: CAC = Total costs associated with acquisition / Total new customers.
Other Important Metrics
Here are some other important metrics you should study to keep track of your progress:
Average order value

Average profit margin 

Cart abandonment rate

Customer retention rate

Refund and return rates

Customer Lifetime Value (net profit from a customer during the entire business relationship)

 
How To Improve Your eShop Customer Journey
If you've identified flaws or shortcomings in your business, you need to work on them. These gaps may subjective, or dependent on your industry, location, demographic, target client base, etc.
Here are some general improvements to get started:
Create and Improve Touchpoints at All Stages
Touchpoints refer to all the interactions that a client is exposed to in relation to your brand. This encompasses ads, site visits, reviews that fellow customers create, searching for products, and making a purchase.
Each of the stages we discussed in a previous section must have a touchpoint that optimizes the overall customer journey.
Offering multiple touchpoints that fulfill the expectations of each stage conveniently is a great way to ensure that their journey with your business remains pleasant.
You should therefore ensure that you have a seamless omnichannel client journey throughout. Here are a few tips to help you do this:
Deliver a holistic client experience by centralizing data in a single system.

Improve touchpoints across all channels by using updated and efficient technology.

Create client profiles to track conversations and maintain context.

 
Website Optimization for Different Devices
Not everybody shops online from their laptops. In fact, as of 2021, most website traffic or 54% of website traffic comes from mobile phones. 
If your website is not optimized to work on devices like smartphones and tablets, you may lose clients.
It is therefore important that you focus on providing clients with a smooth, seamless experience across devices. Here's how to do that:
Test your website to ensure that it works properly.

Ensure that your website loads quickly and is responsive across devices.

Try developing an app for mobile devices and tablets.

Ensure that important buttons such as add to cart, add to wishlist, checkout, etc. are clearly distinguishable and visible.

 
Work Towards Proactive Customer Support
A good client support system is essential. This goes beyond releasing proper guides and automated responses. In fact, 74% to 82% of clients feel the need for more human interaction in their customer service experiences. Additionally, an impersonal experience leads to frustration among 71% of shoppers.
Having responsive customer service is useful for tackling problems that may arise, however, being proactive about possible client issues is even more beneficial. This means that you actively work to not just solve problems, but to avoid them in the first place.
To do so, you may have to anticipate problems, queries, or questions that may occur, and prepare answers or solutions in advance to keep your clients satisfied. This will help increase their trust in your brand as well as boost loyalty while helping you retain customers.
Here are a few ways you can optimize client support:
Optimize live chat features.

Improve interactions with clients on social media.

Use visual tools like co-browsing to amplify conversations. Client service personnel can share a screen or a browser with the client to help resolve issues.

Maintain constant availability and support with online chatbots to ensure that your customer service is active even during non-working hours.

Use CRM or customer relationship management to quickly address routine inquiries.

Simplify the return and refund process as much as possible.

Make client support easier and more convenient to access.

 
Improve Personalization by Collecting and Analyzing Data
Nearly half of buyers are induced to make impulsive purchases when provided with personalized recommendations. Forty-four percent of them become repeat customers when they receive personalized experiences.
It's thus evident that personalization is key, but that's not all.
You must also gather data, information, and feedback from your clients, and analyze them to ensure that you are addressing their concerns and making them feel seen and heard.
Fifty-two percent of consumers globally feel that companies need to act on consumer feedback, so it's important not to fall short in this aspect. Here are a few ways to do this:
Create a centralized framework where content can be updated efficiently.

Give clients special coupons for their favorite products.

Make alterations to user interfaces based on client preferences.

Send "thank you" notes with orders, and "thank you" emails after fulfilling orders, along with requests for feedback.

Study what clients are happy with and what they may be dissatisfied with to make appropriate improvements and changes.

Consider the latest trends to gauge expectations and prepare for them, especially when it comes to your specific target demographic or audience.

 
Conclusion
Fifty-four percent of US consumers agree that companies need to improve their CX. This existing gap in client expectations and what companies are currently offering leaves a lot of room for you to build your client base.
If you work towards increasing customer satisfaction by focusing on even just the basic aspects such as speed, convenience, and helpful employees, you'll be ticking 70% of the main pain points for most customers!
Just remember that your clients' demands may not be what you think, and you must do your research when mapping the customer journey. Furthermore, the revenue your clients generate also depends on the experiences provided by your employees and technology. You should thus focus on integrating technology and strategies that provide a better experience, rather than solely focusing on the latest trends.
After reading this article, we hope you'll consider all the factors we've mentioned to make your customer journey map better and more profitable.
And if you want to learn more about your customers, don't forget to take a look at our article about Customer Activity Cycle. We're sure it will be useful!
Understanding customer journey is important, but acting on it can be a game changer.
Dive deeper into your audience and adjust your marketing efforts accordingly.