+36%  Conversion rate
22%    Reduced Cart Abandonment Rate
+8%    New monthly subscribers
+22%  The overall increase in subscriber
Being an exquisite luxury fashion brand,  Undress had a strong value proposition to offer to its customers. However, two essential metrics the brand was struggling with, when it came to its performance were visits to conversion and customer retention rates. Verfacto helped solve the problem with a "behavior-driven approach to retention" which led Undress to invest in its new and existing customers daily.
"As Undress is an exclusive fashion brand, conventional fashion marketing wouldn't work for us. We needed to scout for the right customers. Verfacto helped us to understand what audience to approach by micro-segmenting the audience. As a result, we lowered CPA for our ads by 20% and increased revenue by 34%."
What were the challenges?
Where spending on premium clothing is every woman's great indulgence, the frequency of these purchases is scanty. This posed to be one of the main challenges for Undress, and the brand has no dedicated sales strategy to tackle it.

Most of Undress's customers were one-time buyers, and the existing ones showed limited loyalty (only 10% repeated purchases). 
Undress reached out to Verfacto to help them devise a solid strategy that captured their visitor's attention better, make them opt-in their marketing initiatives and also prompt both new and existing customers to make recurrent purchases over time. 
Verfacto's proposition: Pop-Up campaigns as an on-site marketing strategy
As Undress's new and returning visitors did not make immediate purchases on the site, Verfacto's approached the leads with highly contextual and relevant user-based pop-ups triggered by customer behavior.
The Overall goal of the campaign was to improve Undress visitors and customer journey experience, and build customer loyalty by offering discounts and email subscription banners at the "right-time".
Therefore, to help track customer's purchasing intent and influence it, Verfacto implemented 5 different incentive-driven,  pop-up campaigns on-site.
Pop-up Campaign 1: Grow audience and leads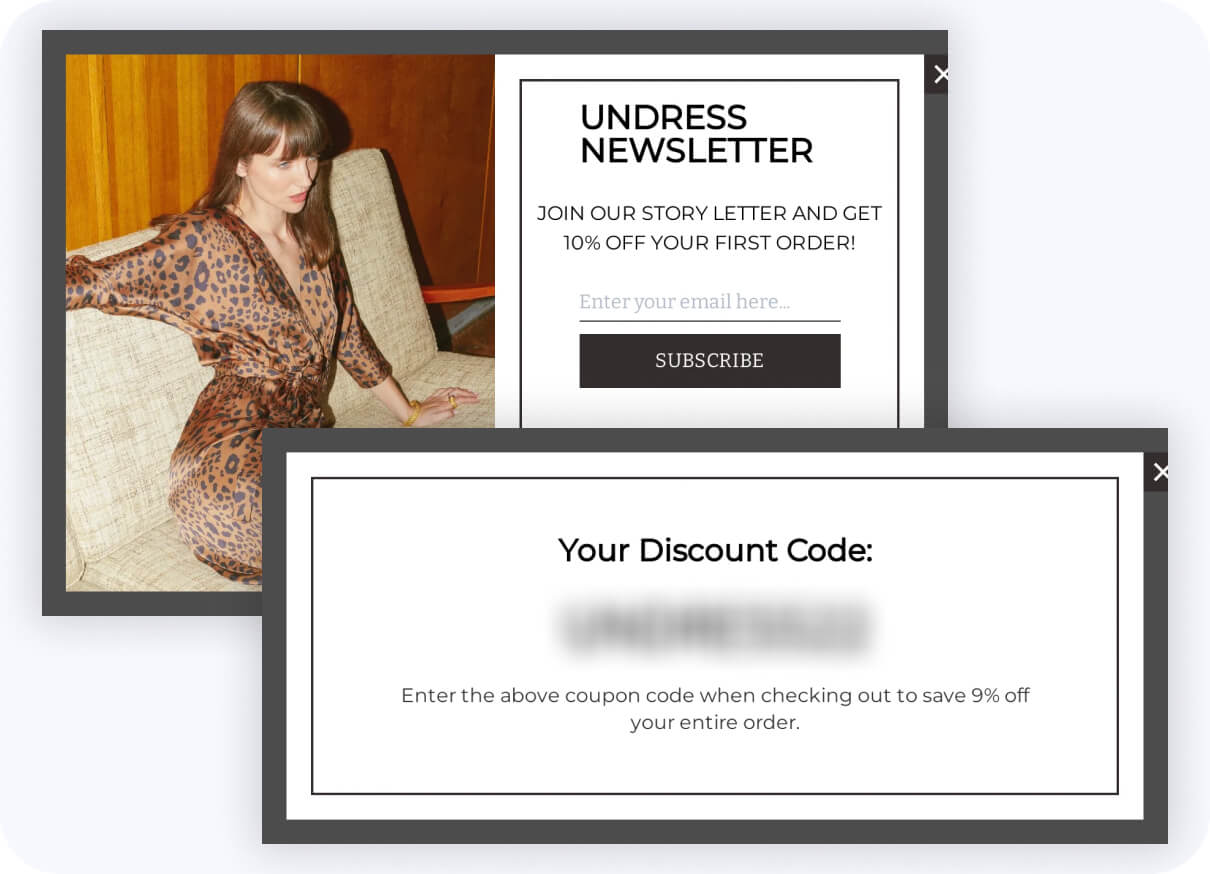 Target Audience: New visitors 
Strategy:  Verfacto's Real-time Customer Profiler identified and shared insights into first-time visitors coming to Undress's website. Based on certain unique attributes, such as their attention score (combined measurement of user actions) and exit intent, we triggered newsletter subscription pop-ups.  
Keeping tabs of customers who wished to leave the site, another Attention score-based, exit intent newsletter pop-up was triggered to recapture them with a dynamic discount offer. This way we were able to test discount strategies and increase subscriber-base for Undress. 
Used Attributes: 
Session count: Only first session

User identification: Only visitors

Verfacto calculated Attention score: Based on users browsing activity in website
Impact: 8% increase in monthly new subscribers 
Pop-up Campaign 2: Catch the "explorer"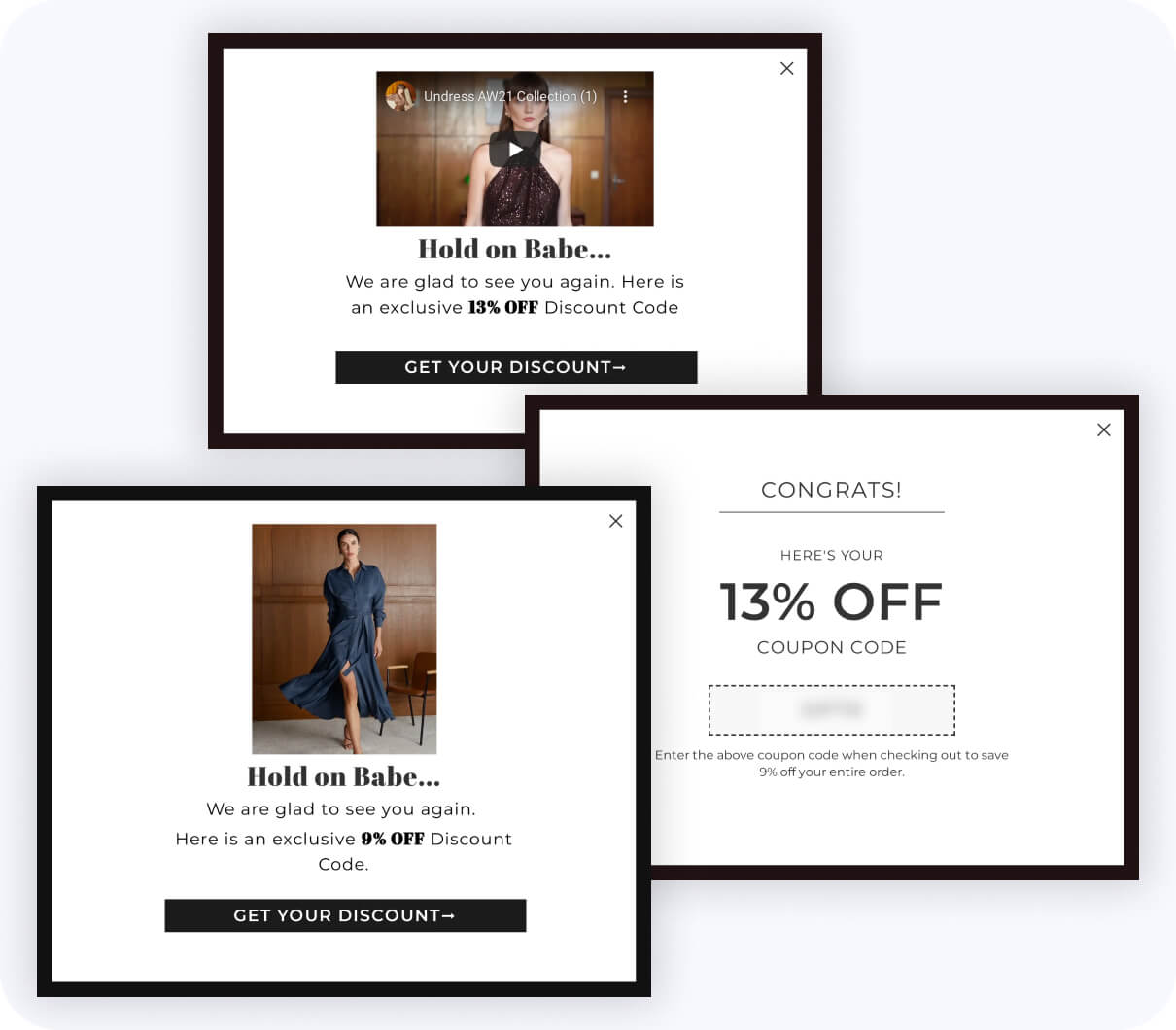 Target Audience: Returning visitors
Strategy:  The explorer, as we term it, is atleast a third time visitor who hasn't converted yet. These visitors have a high purchase intent but browse competition sites for prices, similar products, etc. 
In order to bring them to a purchasing point, we used two-different pop-up banners that were perfectly placed on the site and incentivized: A first time purchase offer and newsletter subscription. 
Used Attributes:
Session count: 3 – 10 sessions

User identification: Only visitors

Advanced Exit intent: Medium

Verfacto calculated Attention score: Based on users browsing activity on the website.
Impact: 22% increase in new subscribers rate and 26% increase in explorers conversion rate. 
Pop-up Campaign 3: Personal touch for returning customers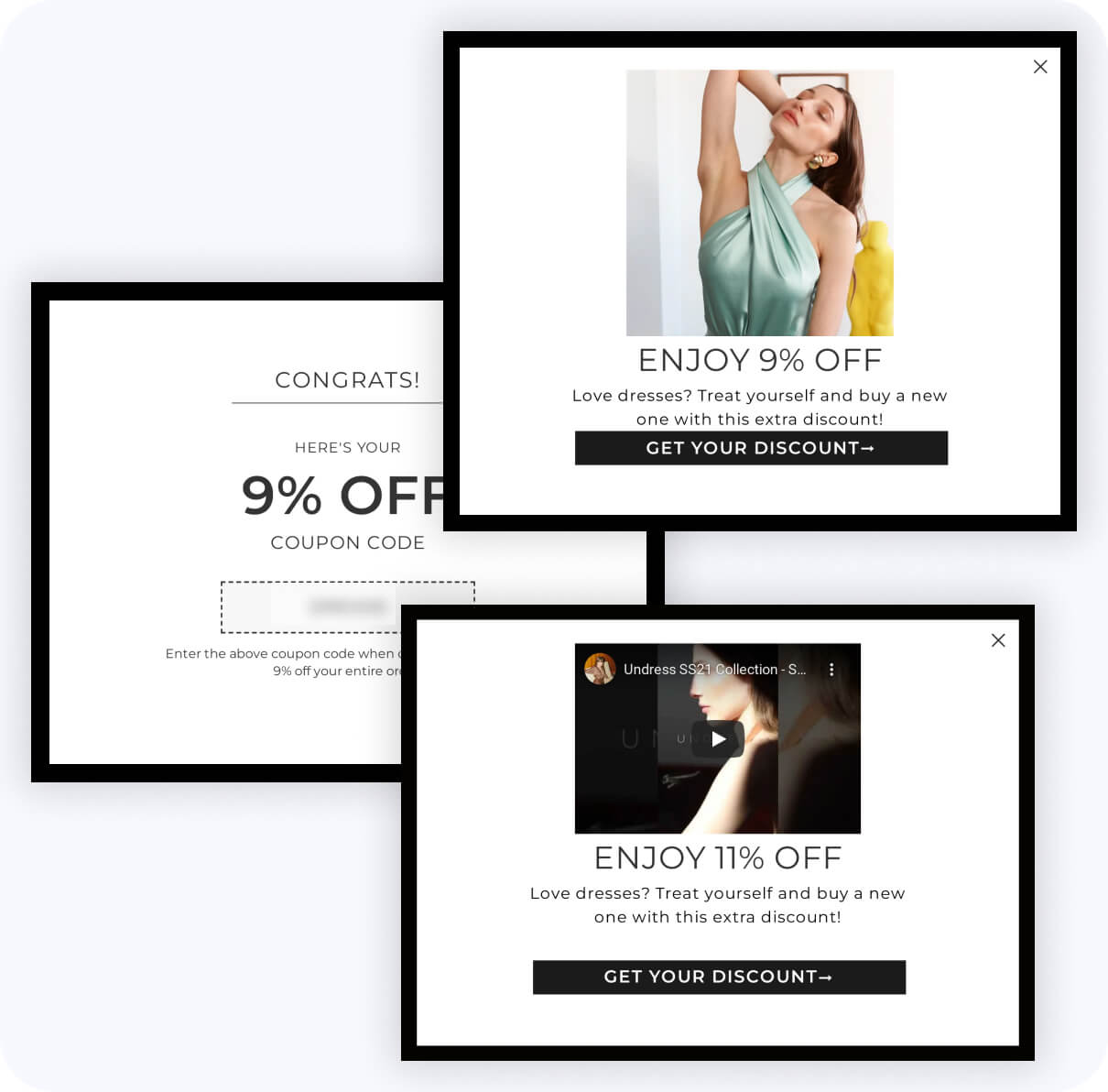 Target Audience: Recently visited customers 
Strategy: After the initial interaction or onboarding process, keeping touch with the new customers is important. 
To understand how often they make a purchase, we used frequency and recency scores. Based on the insights, we pushed a "welcome back" message with additional discount to recently bought customers and those who continued browsing the website. 
This helped us not only initiate personalized conversations but also increase retention rates. 
Used Attributes: 
User identification: Only customers

Advanced Exit intent: Medium

Verfacto calculated Recency score: Based on the days of last purchase

Verfacto calculated Frequency score: Based on the number of orders
Impact: Rewarding returning customers increased retention rate by 34%.
Pop-up Campaign 4: Claiming Abandoned carts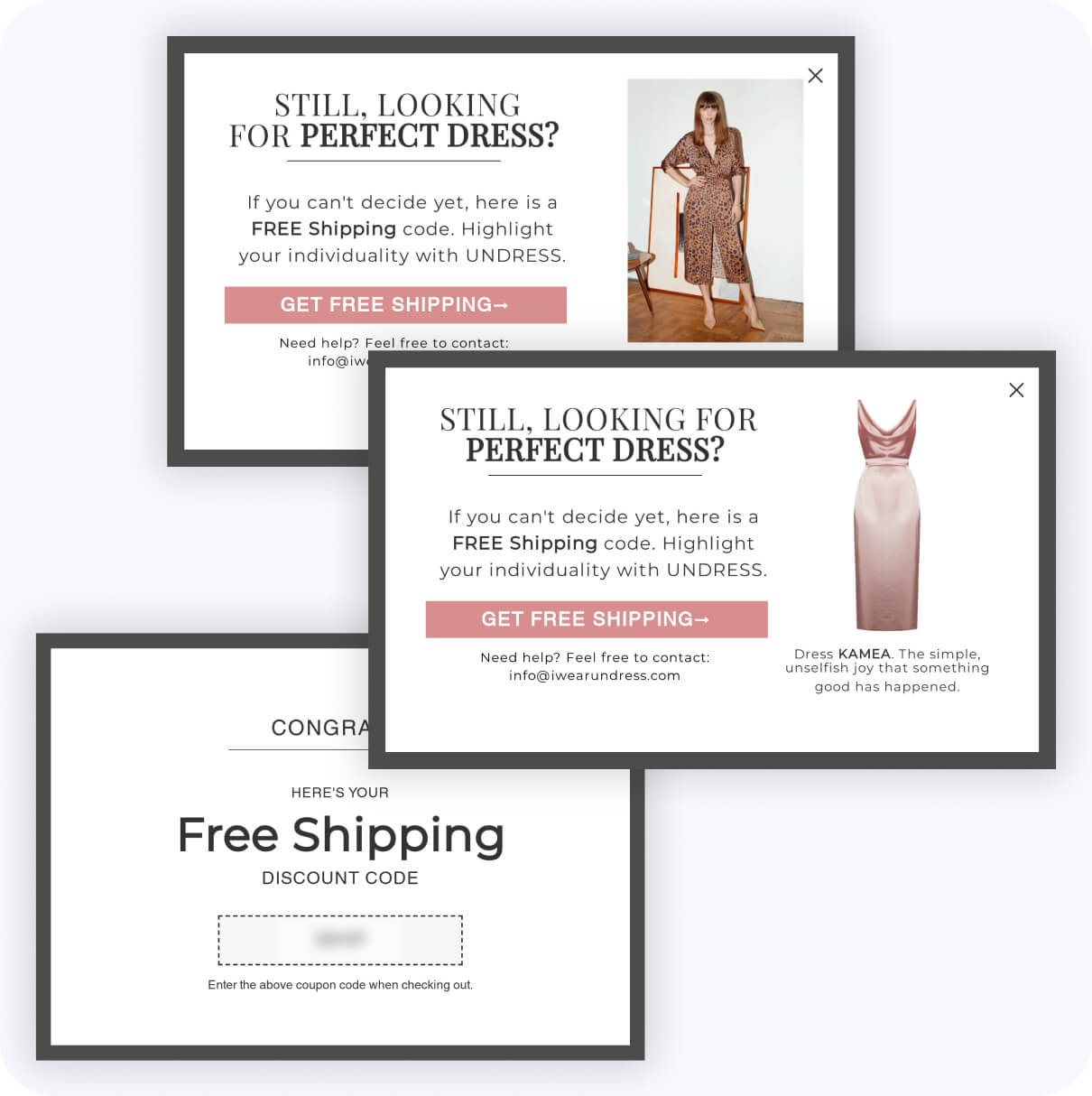 Target Audience: Customers with high shopping cart value
Strategy: Acting on users with high shopping cart value brings you one step closer to solidifying the deal. Verfacto enables brands to identify such high-value users, and if they continue to browse – tries to push the sale with well placed free shipping pop-up.
Used Attributes:
User identification: Only visitor

Advanced Exit intent: Medium

Add to cart identification: At least 1 product add to basket
Impact: Reduced abandonment cart rate by 33% on high AOV(average order value) customers.
Pop-up Campaign 5: Push to convert for users who added to the cart
Target Audience:  Customers with abandoned carts 
Strategy : While most brands use abandoned cart emails, a better and an underlooked strategy is using abandoned cart pop-ups. For Undress, we created a "time-sensitive" pop-up with a discount for potential customers who have added products to the cart and are showing exit intent.  
Used Attributes: 
User identification: Only visitor

Advanced Exit intent: Medium

Verfacto calculated Attention score: Based on users browsing activity in website

Add to cart identification: Cart value is higher than $X 
Impact: Decreased abandoned cart rate by 18%.
Digging deeper than the surface: Capturing technical attributes
Using pop-ups as an overlay to stop online visitors from leaving, and capture their attention with a relevant offer, Verfacto analyzed specific technical attributes such as attention score, recency, frequency score, session count (1 session, 2 session, 3 session etc), exit intent, time spent on website and more. 
We gave Undress ongoing insights of the campaign performance, which over the time, witnessed credible improvement in subscriptions and visitors to conversion rates.
Want to replicate similar success for your eShop?
Unlock success numbers with Verfacto's new-age marketing analytics. Book a demo now!